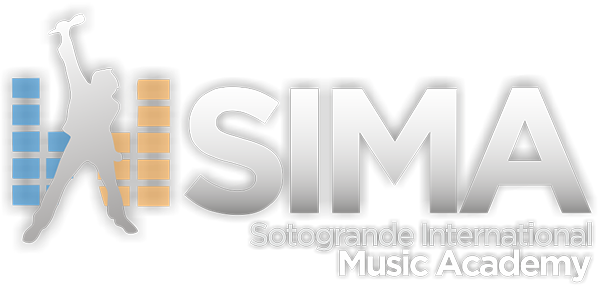 Rock Camp 2017!
ROCK CAMP Mk III / 2017
We're Ready To Rock Out With You This Summer!
If You've Been Here Before, Sign Up Again For An Encore Performance. If It's Your First Time, Get Ready To ROCK OUT!
Rock Camp 2017 (Ages 8-16)
The Sotogrande International Music Academy's professional recording studio at the San Roque Campus gives students a chance to rock out for 5-days straight this summer and from the noise and chaos, an epic vocal group or band will be forged!
Train your voice every day like professional singers do, learn how to play and accompany yourself on the ukulele (NEW!) PLUS, think up a band name, write a song, record music, jam a lot, get a rockin' stage 'look', film a music video, create your own CD cover and conclude with a live performance!
SIMA's rock camp is designed to hone music performance and skills through performing in a real band. You and your child will be amazed at the amount of progress they make while having a blast singing and performing with other musicians.
SIMA's 3rd Annual Rock Camp: 31 July – 04 August. For more details, email sismusic@sis.gl.
Dates: 31 July – 04 August 2017
Hours: 11 a.m – 4 p.m
Ages: 8-16 years
Venue: San Roque Boarding House
Price: €395, includes your own ukulele! (€375 if you bring your own ukulele)
NOTE: This year, we will also offer a la carte individual and group INTENSIVE SESSIONS throughout the second half of August (see details further below).
ROCK CAMP ORGANIZATION:
Participants will be organized in groups; While one group is in studio, another is in voice and the third group is in ukulele training. And then they rotate.
COVER SONG RECORDINGS:
Each participant will be able to professionally record a cover song of his or her choosing.
Watch & learn how the singer is coached, how the vocal is recorded and then edited
Get a high quality, professionally produced MP3 demo of your cover song along with a static in-studio video of their performance.
ORIGINAL GROUP SONG:
Each group (up to 7 persons) will write their own original song under our professional guidance. We will play and arrange all the required instrumental parts, while they're watching – though the finer details of that work will be done on our own time.
We will then record each vocal part
And then we will produce the final mix
All this while the participants learn how (and why!) each step works
PERFORMANCE TRAINING:
Learn how to perform your songs, complete with mic techniques, stage movements and basic choreography
Get vocal lessons to increase the power of your voice and technical singing ability
Learn the basics of the ukulele and be able to perform a simple song on demand
AND FINALLY…:
Perform for your friends and family on the last day
Receive a record of all your activities – not just photos and fond memories, but also your cover and original MP3 mixes (with an audio CD) and VIDEOS – and then share it online with everyone you like!
INDIVIDUAL OR GROUP INTENSIVE SESSIONS
Format: training/session dates/times arranged individually
Ideal For: individuals or groups up to 5 people (to help cut individual cost)
Available Courses or Sessions: Studio Cover Recording(s), Original Studio Recording(s), Songwriting & Arrangement Course, Piano, Voice, Ukulele.
Courses Include:

Voice

Technique, Tips & Tricks, Work on a selected cover song (or multiple songs, in case of larger bookings)

Piano

Technique, Tips & Tricks, Work on selected performance pieces (appropriate to the level of each player)

Ukulele

Technique, Tips & Tricks, Work on selected performance pieces (appropriate to the level of each player)

Songwriting/Arrangement Course

Theory and practice of pro-level songwriting and arrangement, writing a song together (or helping the student to write entirely on his/her own); Recording of the song, along with a basic arrangement (this may be quite advanced in case of students who book more hours)

Cover and/or Original Recording Sessions

Daily recording of a cover song; optionally, an original song (which takes considerably longer); Consult with us prior to booking.

Cost: €50 per hour, but volume discounts apply (

post-recording functions such as vocal compiling, editing, mixing and production are done on our own time and are included in the price! Typically there's 2 hours of editing for every hour of recording.

):
Pricing:


FOR MORE INFORMATION:

Call Paul (645-13-13-76) or Laura (605-02-77-50)
Or email us on SISMusic@sis.gl
BOOK EARLY TO AVOID DISAPPOINTMENT!
You can pay by cash, if you visit us at SIMA facilites at SIS – or you can pay by transfer to this account:
Paul Sedkowski
IBAN: ES49 0081 0535 8300 0190 6695
Account# 0081 0535 8300 0190 6695
BIC: BSAB ESBB