SIMA, THE SOTOGRANDE INTERNATIONAL MUSIC ACADEMY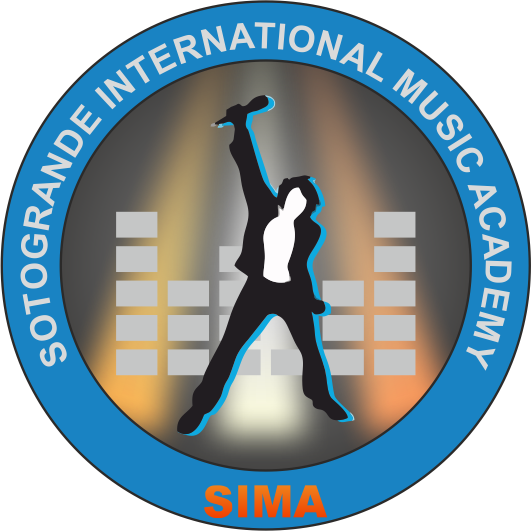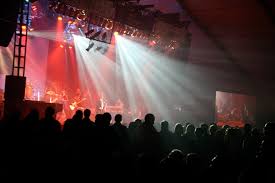 As the world becomes increasingly interconnected, it becomes less and less of an issue for aspiring musicians and vocalists to "have to" be based in London, New York or LA, if they dream of a chance to have an entertainment business career.
SIMA, The Sotogrande International Music Academy, now in collaboration with the world-famous music College, BERKLEE, offers a high quality music and artist development program to the students at SIS, which will help prepare them for work and a potential career in the real music business world.
SIMA not only offers courses in music business, music marketing, audio engineering, advanced vocals, various instruments or music production, but it also helps expose the most promising young artists to genuine music industry opportunities including direct access to some of the world's best and biggest record labels, publishers and managements.
SIMA is run by music industry professionals with years of experience, including successful past music and artist placements and hit songs. Through its partnership with MMI Studios, SIMA continues to very actively work within the music industry in the UK, US and parts of Europe and Asia, giving its students invaluable "industry ins" and practical experience in working with the best people in this field.
Watch Now: Our Artists & YOUR Options
As part of the "Flexible Pathways" initiative at SIS, students who embark on the diploma route, can combine their A-levels with the SIMA/BERKLEE program (with full college credits) and thus emerge prepared not merely for continued higher level musical education in the UK or the US, but also in some cases for a thriving musical career.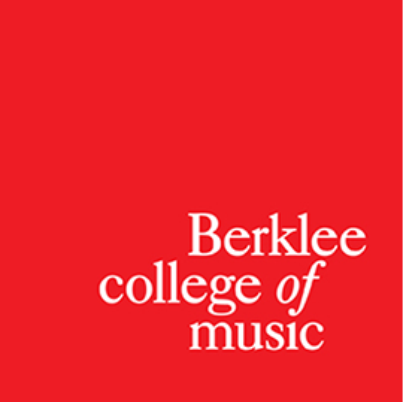 The SIMA development work is carried out both at the SIS campus and at the San Roque campus, where we have an excellent recording and production studio facility, where sessions can be booked at virtually any time of day or evening. The selected Berklee courses are available online, including live interaction with their professors.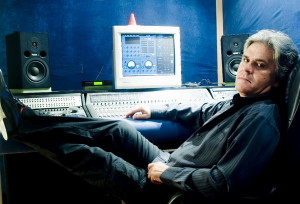 Students who see their future within the music or broader entertainment industry no longer need to move to the UK or the States to continue their specialist education there. SIMA's courses are of the highest standard and include not only a broad variety of exciting options right here on location, but also online – jointly with the world's largest and most famous contemporary music school – Berklee of Boston, Massachusetts.
Daily work, artist development, songwriting and production courses at SIMA are supervised by Paul Sedkowski, whose past music successes and associations include Barcelona Olympics promotional music, a #1 hit with Prince Scandal, long-term work with the managements of such super-groups as Deep Purple or Whitesnake, sessions with the likes of Robin Thicke, an over two-year-long work on new artist discovery together with Tony Cowell (Simon's older brother), development of one of the world's most successful indie music showcases (Fame Games), syndicated in the USA with ABC radio networks, ongoing collaborations with some of the best songwriters in the world including Rob Davis, or successful producers such as Derek Lawrence – and more.
The SIMA team also includes local as well as international experts in related fields from vocal coaching to image development to dance.
Musically-inclined students who wish for the safest and best start in life, know that it's necessary to combine general education certificates (e.g. an A-level program) with a vocational program – such as what we offer with SIMA. The certificates and college credits available from Berklee – through SIMA – are valid all over the world and never fail to impress, wherever you go.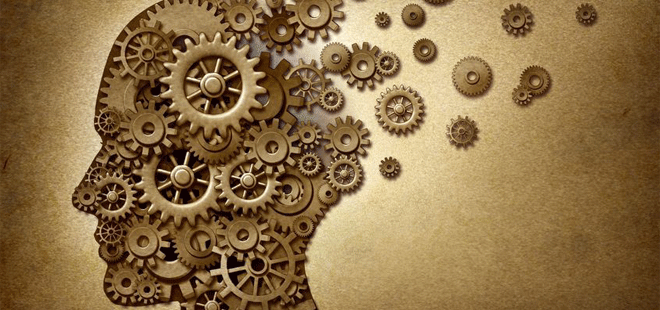 Chosing the Flexible Pathways program at SIS will help our students get better prepared for the future, at a level previously only available in the likes of London, New York or LA. After completing our courses, the students will be well prepared to continue on to University-level education in music anywhere in the world, if they so choose. They will also have invaluable vocational skills that go well beyond mere music.
Once signed up, students can choose any combination of the following courses and sessions (specific details of each individual course will be published soon):
2-year SIMA/BERKLEE courses
Music Production using any of the top DAW production tools
Songwriting: lyrics, melody, arrangement, instrumentation, performance
Music Business: online and offline marketing and promotion, publishing, entrepreneurship
Sound Engineering: studio and live mixing, PC or Mac-based mixing
Indie video development
Radio production and content development
2-year SIMA sessions
Cover song recordings: including vocal comping and editing, live training
Pro career development (extensive auditions needed to qualify)
Image development, dance and stage presentation
Vocal group development
Live band development
Ongoing unstructured studio and rehearsal room time
The students will also be able to book a rehearsal room, dance studio or the music studio with engineer, to develop projects of their own
A la carte 12-week Berklee courses (online)
Music Production

Producing music with Ableton Live
Music Production 101
Pro Tools 101
Mixing and Mastering with ProTools
Advanced Music Production with ProTools
Producing Music with Reason
Producing Music with Cubase
Advanced Audio Ear Training For Mix Engineers
Recording and Producing in the Home Studio
Sound Design For The Electronic Musician
Game Design Principles
Game Audio Producion with Wwise
Art of Mixing
Orchestration
Programming and Producing Drum Beats
Acoustics
Audio Post Production for Film and TV
Creative Music Production Skills
Audio Basics for Recording
Music Notation Using Finale
Music Notation Using Silbelius
Introduction to Digital Cinematography
Music Writing and Production with the iPad
Demo Production for Songwriters
Composing and Producing Electronic Music 1
Music Production Analysis
Advanced Mixing and Mastering with ProTools
Advanced Music Production with Ableton Live
Producing Music with Logic
Critical Listening 1
Audio Mastering Techniques
Hop-hip Writing and Production
Sampling and Audio Production
Introduction to Game Audio
Remixing
Live Sound Mixing and Recording
Orchestration 2: Writing Techniques for Full Orchestra
Getting Your Guitar Sound
Microphone Techniques
Vocal Production
Composing and Producing Electronic Music 2
Music Video Editing with Final Cut Pro
3D Design with Blender
Performing with Ableton Live
Mixing and Mastering for the Electronic Musician

Music Theory, Harmony and Ear Training

Music Theory 101
Music Theory 301: Advanced Melody, Harmony, Rhythm
Getting Inside Harmony 1
Harmonic Ear Training: Recognizing Chord Progressions
Counterpoint
Rock History
Music History of the Western World 1: Medieval, Renaissance and Baroque
Music Cognition
Music Notation Using Sibelius
Contemporary Vocal Arranging
Creative Strategies for Composition Beyond Style
Musi Theory and Composition 2
Music Notation Using Finale
Music Theory 201: Harmony and Function
Basic Ear Training 1
Getting Inside Harmony 2
Music Foundations
Reharmonization Techniques
The Language of Film and TV
Music History of the Western World 2: Classical, Romantic and Modern
Ear Training For Live Performance
Developing Your Artistry
Arranging: Contemporary Styles
Music Theory and Composition 1
Music Theory and Composition 3

Music Business

Music Business 101
Music Publishing 101
Online Music Marketing: Campaign Strategies, Social Media and Digital Distribution
Legal Aspects of the Music Industry
Music Marketing 101
Copyright Law
Music Licensing
Business Communications
Music Business Finance
Career and Job Success in the Music Industry
Music Venue Management
Music Business Trends and Strategies
Concert Touring
Music Industry Entrepreneurship
Artist Management
Music Supervision
Project Management for Musicians
Music Business Leadership and Ethics
Math for Musicians
International Music Marketing: Developing Your Music Career Abroad
Creative Entrepreneurship
New Media Economics: Music, Mobile, Gaming and Online Markets

Piano and Keyboard

Berklee Keyboard Method
Blues and Rock Keyboard Techniques
Jazz Piano
Keyboard for the Electronic Musician
Gary Burton: Jazz Improvisation
Basic Improvisation
Pop/Rock Keyboard

Bass

R&B Bass
Jazz Bass
Slap Bass
Basic Improvisation
Bass Performance 101
Rock Bass
Gary Burton: Jazz improvisation

Guitar

Guitar Chords 101
Guitar Chords 201: Chord Melody and Inversions
Guitar Scales 101
Blues Guitar
Jazz Guitar 101
Classic Rock Guitar
Jazz Guitar 201: Advanced Jazz Guitar Improvisation
Guitar Improvisation Techniques
Acoustic Blues Guitar
Funk/Rock and R&B Guitar Soloing
Acoutic Guitar Techniques
Rhythm and Groove Guitar
Getting Your Guitar Sound
Fundamentas of Classical Guitar
Steve ai Guitar Techniques
Gary Burton: Jazz Improvisation
Basic Improvisation
Advanced Blues Guitar

Songwriting

Lyrics Writing: Tools and Strategies
Lyric Writing: Writing From the Title
Lyrics Writing: Writing Lyrics to Music
Songwriting: Writing Hit Songs
Songwriting for Film and TV
Songwriting: Melody
Songwriting: Harmony
Jazz Composition
Commercial Songwriting Techniques
Jingle Writing
Creative Writing: Finding Your Voice
Creatve Writing Poetry
Creating Writing: Literature Studies For Musicians
World Music Composition Styles
Music Composition for Film and TV 1
Music Composition for Film and TV 2
Contemporary Techniques in Music Compositiojn 1
Interactive Scoring for Games
Demo Production for Songwriters
Contemporary Techniques in Music Compositiojn 2

Voice

Voice Technique 101
Pop and Rock Vocals
Jazz Voice
R&B Vocals
Vocal Production

Arranging

Arranging 1: Rhythm Section
Arranging: Advanced Horn Writing
Arranging: Contemporary Styles
Arranging: Small Ensemble and Horns
Arranging: Woodwinds and Strings
Contemporary Vocal Arranging
Counterpoint
Music Notation Using Finale
Music Notation Using Sibelius
Reharmonization Techniques
World Music Composition Styles
Creative Strategies for Composition Beyond Style
Contemporary Techniques in Music Composition 1

Orchestratiion

Orchestration 1
Orchestration 2: Writing Techniques for Full Orchestra
Music Composition for Film and TV 1
Music Composition for Film and TV 2
Film Scoring 101
Composing and Producing Electronic Music 1
Composing and Producing Electronic Music 2
Introduction to Game Audio
Counterpoint
Music Notation Using Finale
Music Notation Using Sibelius
World Music Composition Styles
Contemporary Techniques in Music Composition 1
Interactive Scoring for Games
Contemporary Techniques in Music Composition 2

Online Certificate Courses (multi-course)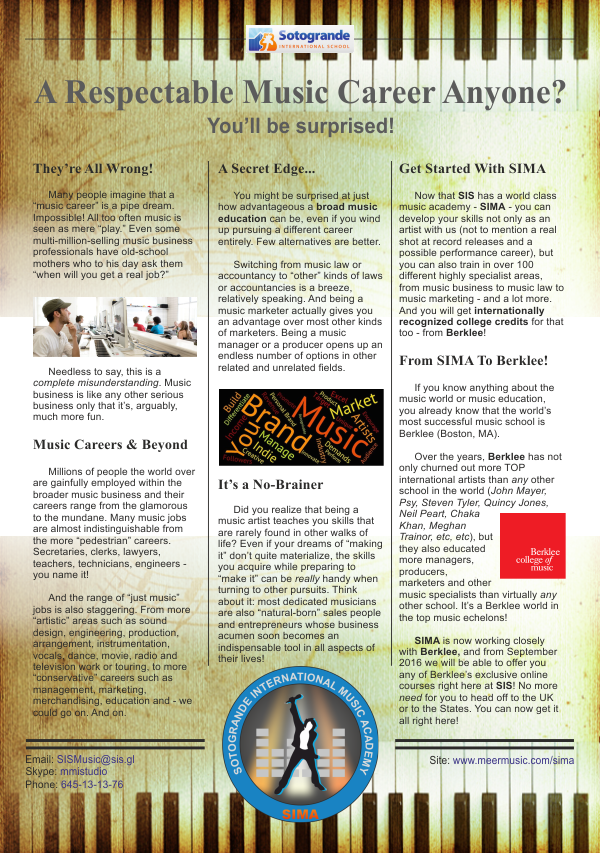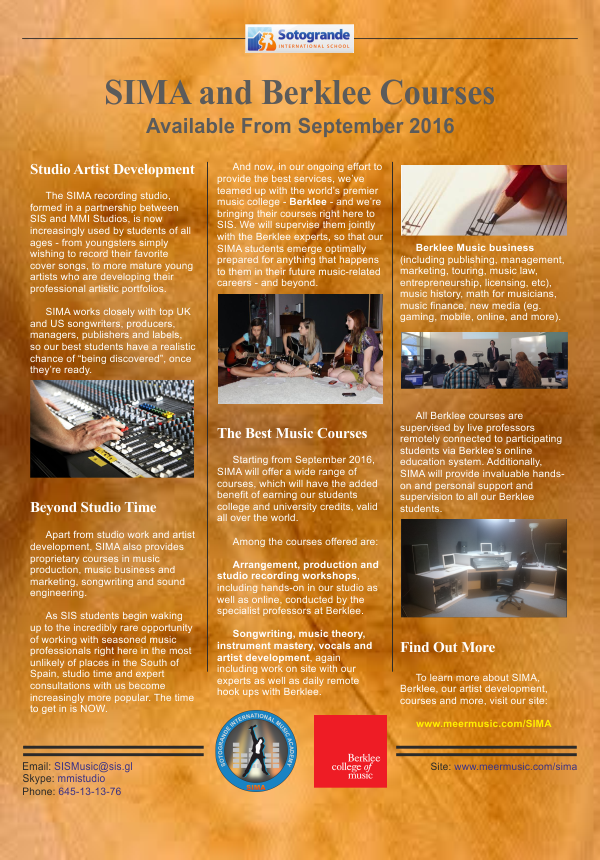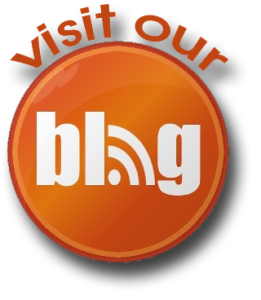 Visit the SIMA blog, where developments as well as musical productions are posted daily.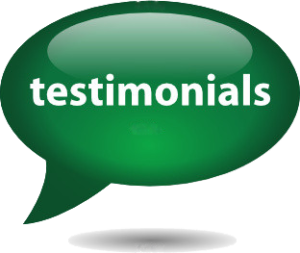 On working with us: "Working with you can benefit any artist" JOHN COLETTA (manager of Deep Puple, Whitesnake, etc)
On our songwriting: "World-class in every respect" ROB DAVIS (hit songwriter, grammy winner)
On out productions: "You mean business!" DEREK LAWRENCE (multi-million-selling producer)
On our ABC-syndicated music show: "Fame Games is the coolest game in town" LIONEL RICHIE