Samples from "Nothing But Trouble" (2006) by Laura Krier
This album took many years to materialize. We tried dozens of styles and ideas and finally arrived at what we wanted – in between all the other work we did.
But just then… all our possessions, including our backups got flooded in one of those freak accidents of nature…! And that happened just after we got the album signed up with a label in Japan, and another deal in Germany. And now we had no masters or mixes to send them!
So I had to dig up some early copies of creative sessions with nothing but cue vocals on them and very little production – and with only 4 weeks left to deadline, I had to somehow patch it all together and hope for the best. Some originally-rejected tracks were now fair game. I didn't have enough material in any single style out of the many we experimented with to make one album – but I had a few dozen songs, each in a different style… And there was no time to get Laura to re-sing anything either, so what you hear are essentially "cue takes!"
And thus "Nothing But Trouble" came to be!
As soon as the album was finished – our partner, who got us those deals, John (Coletta), died…
---
Audio clip: Adobe Flash Player (version 9 or above) is required to play this audio clip. Download the latest version here. You also need to have JavaScript enabled in your browser.
right-click here and 'save as' to download
I finished the reconstruction and production one day before the deadline, so on the final night, I wrote one more song, had Laura sing it and got Graham Keeling to lay the guitars down. I spent the night slapping it all together and what came out of that is now "Fill Me Up". It' a song about politics – not the only such song on Laura's album…
You can also watch it here:
---
Audio clip: Adobe Flash Player (version 9 or above) is required to play this audio clip. Download the latest version here. You also need to have JavaScript enabled in your browser.
right-click here and 'save as' to download
I wrote "You Got Me" for Anne Murillo originally. Co-wrote it with her, actually. But I felt the track really suited Laura, so after we made some minor tweaks and alterations, it became one of her signature tunes. It's a straight love song and has a gentle R&B sway.
You can also watch it here:
---
Audio clip: Adobe Flash Player (version 9 or above) is required to play this audio clip. Download the latest version here. You also need to have JavaScript enabled in your browser.
right-click here and 'save as' to download
Steve Cline brought the idea for "To Be So Close To You", because he needed a song for a local cancer charity. Laura and I rewrote his lyrics entirely and then I wrote the music which I felt would suit the tone of the charity event where it was supposed to be showcased. It wasn't supposed to be on this album – but, you heard the story… We took whatever we could find! The lyric speaks to the one person who's dying and can't be helped – based on a real event.
---
Audio clip: Adobe Flash Player (version 9 or above) is required to play this audio clip. Download the latest version here. You also need to have JavaScript enabled in your browser.
right-click here and 'save as' to download
"What Took You So Long" was co-written with Laura and Graham and was supposed to be one of the songs on the album we originally wanted to put out. Rockier and bluesier and none of that pop shite. But all other songs in that style got flooded out of existence and this is only one of two-or-so that survived. Both Laura's and Graham's vocals are first takes. The lyrics are frivolous and should make you smile.
You can also watch it here:
---
Audio clip: Adobe Flash Player (version 9 or above) is required to play this audio clip. Download the latest version here. You also need to have JavaScript enabled in your browser.
right-click here and 'save as' to download
We decided to cover "Moondance" as an homage to Van Morrison who just visited Marbella at the time. We even got his publisher to clear this version for us! Originally, I didn't realize Van wrote this and I thought it's an "oldie". In fact I only ever heard it once somewhere and my recollection was "big-band-like". So when we decided to cover it, I actually thought I'm arranging a straight cover. But then Laura played me the original and I realized that we've stumbled on a pretty cute re-interpretation of this classic.
---
Audio clip: Adobe Flash Player (version 9 or above) is required to play this audio clip. Download the latest version here. You also need to have JavaScript enabled in your browser.
right-click here and 'save as' to download
"Special Delivery" came from a completely different project and used a track by a Danish guy whose name I will soon remember, but forgot as I'm writing this, LOL. I essentially just wrote the toplines on this track and put the lyrics together with Laura. This is a dance track and wasn't supposed to be on this album at all…! The lyrics deal with our budding relationship at the time (we didn't formally hook up as a couple for another few songs/weeks!)
---
Audio clip: Adobe Flash Player (version 9 or above) is required to play this audio clip. Download the latest version here. You also need to have JavaScript enabled in your browser.
right-click here and 'save as' to download
"Nikki's Theme" was commissioned by the international beach club chain, Nikki Beach. We met the owner (I forgot his name now) and he told us the story of his daughter, Nikki, who died unexpectedly. He created the club in her memory. We loved the story and decided to write a song in her honor as well. Laura more or less improvised the entire melody AND lyrics in a single-take session – immediately after I put the music together! I used samples of my former band, Alma Tadema's "Frontier" within this song (see further below). We played the song live during the opening of the Nikki Beach Marbella club.
---
Audio clip: Adobe Flash Player (version 9 or above) is required to play this audio clip. Download the latest version here. You also need to have JavaScript enabled in your browser.
right-click here and 'save as' to download
"I Need To Know" was originally a throw-away track which I never finished while working on something else entirely. After the flood, however, I stumbled upon it my discarded folder and thought that with a little work it just might work. It had some cue vocals on it from Laura, so that was enough for me to devote some time to it. I decided to play in some heavy guitar parts on it just to see if rock and dance could be successfully blended together. Today, this remains one of the favorites among Laura's fans.
---
Audio clip: Adobe Flash Player (version 9 or above) is required to play this audio clip. Download the latest version here. You also need to have JavaScript enabled in your browser.
right-click here and 'save as' to download
I wrote "While You Were Gone" together with Laura early on in our relationship, but the song was almost forgotten for a while. Then I hooked up with Stephen Mannouris who did some work with The Honeyz and he helped me produce it in a different way than I originally intended – much to the track's benefit, I think. The lyric is a play on a person's insecurities.
You can also watch it here:
---
To hear some more tracks from the "Nothing But Trouble" album head on to www.laurakrier.com. (There's 17 tracks in all, each in a slightly different style…!). But you already know that.
Samples from the debut album (1997) by Graham Keeling
I'm not sure if we recorded this in 1997 or 96. Or maybe even 95. I lost most of my notes in that famous flood I mentioned before…
I was working with Long Legs Records at the time and we were in the middle of working with Robin Thicke and his whole crew which included the likes of Jordan Knight (from New Kids on the Block), famous vocal coach Gary Catona and various people from Mariah Carey's camp as well as some stragglers from Kool and the Gang. I was also, simultaneously, working on a video with Benny Hill's director, Dennis Kirkland, for a track which was supposed to be a comedy piece. It never materialized in the end, but that's a whole separate story…
I met Graham some years earlier when I was working with Mayte Martinez and we needed a hot axe-man to help us with our sessions. As it happened, Graham also had a great voice so, inspired by some of the vibes I picked up from Robin, I thought I'd write some songs in a similar vein for Graham.
In the end, I recorded 10 tracks with him, in-between all the other sessions I had on at that time. All of them had a more or less consistent R&B-inspired pop/ballad-rock vibe. Quite original, if I may say so myself, LOL.
---
Audio clip: Adobe Flash Player (version 9 or above) is required to play this audio clip. Download the latest version here. You also need to have JavaScript enabled in your browser.
right-click here and 'save as' to download
"Don't Say Things" was the first song I wrote for Graham and it also took the longest to put together as Graham wasn't used to singing R&B at all. He soon got the picture, once he heard the final mix. The rest of the songs were written as variations on this theme.
You can also watch it:
---
Audio clip: Adobe Flash Player (version 9 or above) is required to play this audio clip. Download the latest version here. You also need to have JavaScript enabled in your browser.
right-click here and 'save as' to download
"Beside You" was a song I wrote many years earlier, but never got around to recording it. I now replayed and re-arranged it and got Graham to lay down all the guitars.
---
Audio clip: Adobe Flash Player (version 9 or above) is required to play this audio clip. Download the latest version here. You also need to have JavaScript enabled in your browser.
right-click here and 'save as' to download
"Whole Lot of People" was written as an inspirational track for a friend. The problem is, that at least 3 or 4 of my friends claim that it was them! And I can't remember any more who it was that inspired me to write this. Most probably a psychologist friend of mine, Dr Frank Stahl, but I could be wrong…!
---
Audio clip: Adobe Flash Player (version 9 or above) is required to play this audio clip. Download the latest version here. You also need to have JavaScript enabled in your browser.
right-click here and 'save as' to download
"Cry" was a direct derivative of "Don't Say Things" and was written and played in during one afternoon. Graham was supposed to pop by the studio the next day and didn't expect that I'd have another song for him. So I wrote this one just so he wouldn't go rusty! 😉
You can also watch it:
---
Audio clip: Adobe Flash Player (version 9 or above) is required to play this audio clip. Download the latest version here. You also need to have JavaScript enabled in your browser.
right-click here and 'save as' to download
"Hey Girl" was another track written specifically in this vein – essentially an R&B track with ballad rock elements. I originally wrote it for a girl (as "Hey Boy", hehe), but she couldn't quite give me the breathiness that I wanted the song to have – and Graham was, thankfully, most accommodating! :)I'm planning to upload some more songs from his album here – one of those days…!
---
Outside stuff, covers, reverse covers and other weird things (1992-2012)
by various artists
---
"Hold Me"
A song I wrote so long ago I can't be sure when, probably late 70's or early 80's. I tried various artists on this one, but the best version was done not by me but by a studio in LA, called deWalden Music. I don't even remember the name of the singer now… Check it out.
Audio clip: Adobe Flash Player (version 9 or above) is required to play this audio clip. Download the latest version here. You also need to have JavaScript enabled in your browser.
---
This is one of Rob Davis' songs, back from the days when we worked together very closely and regularly, and before he became an international "superstar" songwriter. I think this version dates back to the early 2000's. This version is sung by a girl from Alice DeeJay, called Kelia and I actually like this version better than Holly Valance's cover later on. Holly had a massive hit with this song, though.
Audio clip: Adobe Flash Player (version 9 or above) is required to play this audio clip. Download the latest version here. You also need to have JavaScript enabled in your browser.
And just in case you wondered, here's what Holly's version sounded like:
---
This is a song originally performed by the Timex Social Club and here you can hear it covered by Awesome – a boy band we tried out and almost-almost worked with but in the end decided against it. Awesome had a major hit with this version in a number of European markets. See what you think.
Oh, and here's the original version, just in case you're interested…
---
This song was first performed by Bonnie Tyler, but it was Tina Turner who made it a hit. But I worked with Sue Campbell (a.k.a. Emily Stone) for many years and it was Sue who suggested that she should do an original cover of this track, a la Bonnie (Sue was in a band together with Bonnie – real name Gaynor, actually – so there was that extra link up there). This version was done at G&G Tonstudios in Germany, by the same team who did Snap's "I've Got The Power". See what you think.
Audio clip: Adobe Flash Player (version 9 or above) is required to play this audio clip. Download the latest version here. You also need to have JavaScript enabled in your browser.
---
This song was written by the awesome songwriter that is Diane Warren, and she asked my long-time development artist (and later a minor star in her native Denmark), Anne Murillo, to do a demo for it. Anne's version got picked up by Cher and the rest is history. But between you and me, I'll take Anne's version over Cher's any day. Have a listen and see if you agree…
Audio clip: Adobe Flash Player (version 9 or above) is required to play this audio clip. Download the latest version here. You also need to have JavaScript enabled in your browser.
And here's Cher's version:
---
I've spent about a month working with Robin Thicke back when he was still only about 19 years old. He was already a really good songwriter and this is one of his songs which has had a big impact on me and my subsequent writing style. This version is performed by Jordan Knight (ex New Kids On The Block), who came down here with Robin during some of our sessions together. Amazingly, this tune never made it to Jordan's album at the time. One of many A&R decisions which, in my opinion, helped bury Jordan's further career.
Audio clip: Adobe Flash Player (version 9 or above) is required to play this audio clip. Download the latest version here. You also need to have JavaScript enabled in your browser.
Samples from various projects (1991-2001)
by various development artists
During those years, I worked with three different labels. First with Kon Tiki Music, then with Long Legs Records and finally with JCPS (which later got renamed to Meer Music).
I formed Meer Music together with John Coletta (Deep Purple/Whitesnake manager), Derek Lawrence (Deep Purple, Wishbone Ash, Hot Chocolate producer), Rob Davis (Grammy-winning songwriter) and Andy Tumi (songwriter, producer, hit artist), and we had a stable of over 20 acts, all of whom I wrote for and developed, coached and assisted as much as I could.
I lost most of my work from that period, especially some of my favorite rock and fusion tracks which I wish I could somehow recover. But here are some samples of lighter work, mostly pop.
---
Audio clip: Adobe Flash Player (version 9 or above) is required to play this audio clip. Download the latest version here. You also need to have JavaScript enabled in your browser.
right-click here and 'save as' to download
I was working a lot on dance music at that time, together with Rob Davis. This was still before he broke out with Toca's Miracle and soon afterwards with If This Ain't Love (Why Does It Feel So Good). (He also later wrote "Can't Get You Out Of My Head" for Kylie and much more.) And frankly, by this time I was really fed up with four-on-the-floor dance vibes… I wanted to write something danceable, but less formulaic. So I played in this track which I felt was the kind of dance I could live with. Just then, Andy Tumi arrived to work on some tunes with me (he just finished working with Sugababes and had a new minor-hit band called… hmm what were they called…? Point Break! I think…). Anyway, when Andy heard this tune, he immediately started vibing the lyrics and the melodies. He then proceeded to lay down the cue vocal which is what you're hearing in this version of "Bringin Out the Funk In You". The song was intended for Impact who were just beginning to make waves in the UK (but never did break through in the end). This was years before Andy broke out with Supafly v Fishbowl.
If you want to remind yourself of how Andy's hit sounded, here it is: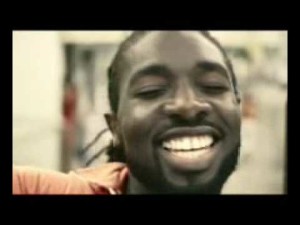 Audio clip: Adobe Flash Player (version 9 or above) is required to play this audio clip. Download the latest version here. You also need to have JavaScript enabled in your browser.
---
Audio clip: Adobe Flash Player (version 9 or above) is required to play this audio clip. Download the latest version here. You also need to have JavaScript enabled in your browser.
right-click here and 'save as' to download
After we finished that song, we sat down to write "Dead On" for Impact, which was mostly Andy's input I must say. The version here is a very early one – I lost the better version in the flood! Impact was a two-man boy band. Or should I say two-boy man band?
---
Audio clip: Adobe Flash Player (version 9 or above) is required to play this audio clip. Download the latest version here. You also need to have JavaScript enabled in your browser.
right-click here and 'save as' to download
I wrote the lyrics and toplines for "Movin To My Own Beat" and this was another track by that Danish guy, I now remember his name was Jorgen, LOL. Natural were a group of three girls only one and a half of whom could sing – but they looked good 😉
---
Audio clip: Adobe Flash Player (version 9 or above) is required to play this audio clip. Download the latest version here. You also need to have JavaScript enabled in your browser.
right-click here and 'save as' to download
I wrote "If You Want Me" together with Rob Davis, with some input from Derek Lawrence as well, if I recall correctly. This is a very early mix. At that time, Natural were a two-girl band. Hmm I guess that would make them a duet! hehe….
---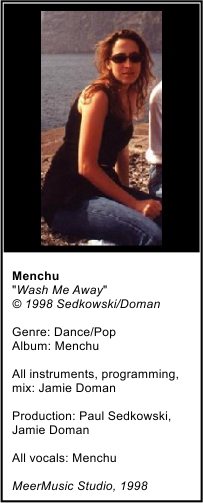 "Wash Me Away" was written together with Jamie Doman who just finished work with Vanessa Amorissi and started doing some stuff with Ministry of Sound. The track used here was actually from something else he'd written, but we adapted it to this new song. The mix you're hearing here is the first vocal cue – further versions and the final mix drowned in the flood…!
Audio clip: Adobe Flash Player (version 9 or above) is required to play this audio clip. Download the latest version here. You also need to have JavaScript enabled in your browser.
right-click here and 'save as' to download
---
"Just One Touch" was written as an act of rebellion on my part. I was really getting sick and tired of constantly writing dance tunes, so I did something a little different. Unfortunately, this is only a very early mix. Menchu had a really nice voice, but not fully trained, so this cue version may sound a little shaky in places.
Audio clip: Adobe Flash Player (version 9 or above) is required to play this audio clip. Download the latest version here. You also need to have JavaScript enabled in your browser.
right-click here and 'save as' to download
---
"Whatever You Got" and "All You Do Is Play" were written especially for Anne Murillo who was, at that time, becoming quite well-known in her native Denmark. I used to work with Anne back in the early 80's. In fact she was the first singer I ever wrote songs for when she was only 18 or 19! Now I just remembered the name of that Danish guy. Jorgen Moller! I used one of his tracks to write "All You Do It Play" over it, while the other song was fully played and written by me, with able participation from Anne both on the melody and lyrics side.
Audio clip: Adobe Flash Player (version 9 or above) is required to play this audio clip. Download the latest version here. You also need to have JavaScript enabled in your browser.
right-click here and 'save as' to download
---
Audio clip: Adobe Flash Player (version 9 or above) is required to play this audio clip. Download the latest version here. You also need to have JavaScript enabled in your browser.
right-click here and 'save as' to download
---
I was asked to write "Raise The Roof" for a cancer charity and it was, typically, a last-moment thing. It was commissioned by the Irish TV/radio personality, Maurice Boland. I wrote, recorded and played the whole thing in one afternoon and even laid down some guitar tracks to boot! Then I got 4 kids from a local stage school to sing bits of the chorus and I multi-tracked them so it sounds like there's a shitload of them here, LOL. Mayte actually had a minor local hit with this song and the local radio here in Spain continue playing it to this day! Incidentally, I discovered Mayte together with Andy Taylor of Duran Duran. We were originally going to develop her together, but he had other commitments in the end. A song I wrote for her and whose mix I currently can't find (I got it somewhere) later went on to win a few competitions and even had Emilio Estefan wanting to produce it for us – for political reasons which I won't go into here, we never went ahead with that after all…
Audio clip: Adobe Flash Player (version 9 or above) is required to play this audio clip. Download the latest version here. You also need to have JavaScript enabled in your browser.
right-click here and 'save as' to download
You can also watch it:
---
"Set My World On Fire" was written as a kind of homage to Miami Sound Machine – fittingly, when you consider that Emilio Estefan wanted to produce this track after he heard this demo. Why it didn't happen? Aww… Long story. Let's just say that the owner of Long Legs Records had something to do with it…
Audio clip: Adobe Flash Player (version 9 or above) is required to play this audio clip. Download the latest version here. You also need to have JavaScript enabled in your browser.
right-click here and 'save as' to download
---
"Touch" goes back to Long Legs days and Robin Thicke. I wrote this song right after he misbehaved slightly with someone I won't mention… But I turned the meaning of the lyrics around, so you'd never know!
Audio clip: Adobe Flash Player (version 9 or above) is required to play this audio clip. Download the latest version here. You also need to have JavaScript enabled in your browser.
right-click here and 'save as' to download
---
Audio clip: Adobe Flash Player (version 9 or above) is required to play this audio clip. Download the latest version here. You also need to have JavaScript enabled in your browser.
right-click here and 'save as' to download
"Loved By You" was inspired by something by Stevie Wonder (not sure what it was now). This version was the first cue take. Since then we had quite a few remixes done (among them by Paul Harris, if I remember right) but they're all lost now.
---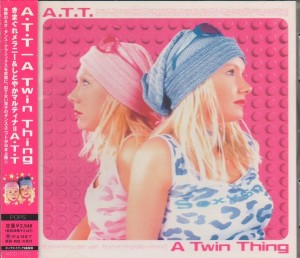 Audio clip: Adobe Flash Player (version 9 or above) is required to play this audio clip. Download the latest version here. You also need to have JavaScript enabled in your browser.
A.T.T. (A Twin Thing) was made up of Martina and Melanie Grant,  popular British actresses and hosts of Fun House. We developed quite a few tracks for them together with Rob Davis and Derek Lawrence. The track here, "Always", was written mostly by Rob, with input from me, plus, as usual, all the playing etc.
Samples from various projects (1984-1992)
by various development artists
I was trying to do music full-time all this time, but it was hard. How was going to live off that?
---
I had a tiny inkling of a "success" with "September Song" by Prince Scandal in 1984 which charted at #1 in Poland and then went on to chart in a few other countries too, albeit not at #1. But after that – nothing. I worked a lot with Anne Murillo and Glenn O'Garrow right up to 1987 when I decided to move to Spain. And there was no way I was going to be able to do music in Spain, it seemed. Too much other work…!
Audio clip: Adobe Flash Player (version 9 or above) is required to play this audio clip. Download the latest version here. You also need to have JavaScript enabled in your browser.
right-click here and 'save as' to download
You can also watch it:
---
But eventually I hooked up with Kon Tiki Music and, if I remember right, a couple of other music companies as well. But it wasn't until I met with Pablo Zoltan and Marcello de Francisci (who is now a hot Hollywood movie composer) and we made this little "band" called Alma Tadema. I pretty much played everything on the album and wrote or co-wrote most of the tracks. But the original inspiration and concept as well as the first 3 or 4 seed tracks came from Marcello and Pablo. We released "Blinded By Passion" with Kon Tiki Music but nothing happened – at first. But then imagine our surprise when we learned that the Barcelona Olympic committee picked our album as promotional music for that event. It was played around the world, mostly in Spain and South America! It's a kind of New Age/Rock fusion. Different… The three song samples here were my solo contributions to the album, all of which got the most TV/airplay during the '92 Olympics.
Audio clip: Adobe Flash Player (version 9 or above) is required to play this audio clip. Download the latest version here. You also need to have JavaScript enabled in your browser.
right-click here and 'save as' to download
You can also watch it:
---
Audio clip: Adobe Flash Player (version 9 or above) is required to play this audio clip. Download the latest version here. You also need to have JavaScript enabled in your browser.
right-click here and 'save as' to download
---
Audio clip: Adobe Flash Player (version 9 or above) is required to play this audio clip. Download the latest version here. You also need to have JavaScript enabled in your browser.
right-click here and 'save as' to download
---
Kimera was a multi-million selling opera/disco artist – and a genuine Korean princess! With my TaeKwonDo background, this was a very ominous match! She was my first full-time music "client" and I wrote and produced her album "kimystry" which was never released… It didn't come out as well as I had hoped, let's leave it at that…!
Audio clip: Adobe Flash Player (version 9 or above) is required to play this audio clip. Download the latest version here. You also need to have JavaScript enabled in your browser.
right-click here and 'save as' to download
---
Audio clip: Adobe Flash Player (version 9 or above) is required to play this audio clip. Download the latest version here. You also need to have JavaScript enabled in your browser.
right-click here and 'save as' to download
---
Audio clip: Adobe Flash Player (version 9 or above) is required to play this audio clip. Download the latest version here. You also need to have JavaScript enabled in your browser.
right-click here and 'save as' to download
---
I wrote "Too Many Questions" for myself, back in the day when I still thought I was going to be a singer, LOL. But then I met Tomas Karlsson who, apart from being a seeded (!) tennis player of international quality, also sounded a bit like David Coverdale in places and I thought he'd do a much better job of it than me. John (Coletta) got almost offended when I said Tomas sounded a bit like David! As a result John refused to sign Tomas, just to make a point. NOBODY sounds like David Coverdale! hehe…. (By the way, John and David's CC Songs was the model for John and my company JCPS – where CC stood for Coletta/Coverdale, whereas JCPS was John and myself, hehe).
Audio clip: Adobe Flash Player (version 9 or above) is required to play this audio clip. Download the latest version here. You also need to have JavaScript enabled in your browser.
right-click here and 'save as' to download
---
"No Mercy" was a track I co-wrote with Kon Tiki Music's founder, Peter Stacey, and we got Sue Campbell (a.k.a. Emily Stone) to sing it. Sue started out in a trio together with Bonnie Tyler and was a cracking singer. I later took Sue to Germany where we cut some more tracks at G&G Tonstudios, that's where Snap's "I Got The Power" got recorded.
Audio clip: Adobe Flash Player (version 9 or above) is required to play this audio clip. Download the latest version here. You also need to have JavaScript enabled in your browser.
Samples from various unfinished projects (2001-2011)
by various development artists
---
Shortly after we signed Laura Krier to our Meer Music roster, the company fell apart. I remained friends with John and everyone, but we saw no point in continuing. Rob went on to win a Grammy or two, Paul Harris and a few other of our regulars also – and here I was still stuck in Marbella, not going anywhere. I might as well do it all by myself! The relationship between John and me was tense at the time, because he blamed himself for not being able to place my music – times sure were a-changin'.
I soon made a new company with Laura and the renowned Hollywood director Mary Jane Trokel (who directed some hit shows in the States, like The Tonight Show, Entertainment Tonight or Solid Gold, etc). We renamed the company Mere Music International (MMI). Initially, we kept the entire roster of artists from Meer Music, except Mayte whom John kept.
Soon, we started a project we called "Upstage" (later renamed to "Beachtown") which featured kids from 7 to 14 years of age. Later we expanded the project and called it Artist Development System (ADS) and had kids in it from 7 to 30!
Upstage was the most successful of these projects and it was a 10-person (10-kid) "band" – and actually did a very good job of performing and singing live.
But later on, we started developing young solo artists, some of whom were really promising, in fact…
---
Audio clip: Adobe Flash Player (version 9 or above) is required to play this audio clip. Download the latest version here. You also need to have JavaScript enabled in your browser.
right-click here and 'save as' to download
"Superhero" was written for the then-seven-year-old Jake Waby as an "empowerment" song. Jake suffered from Cerebral Palsy and – amazingly – is among the less-than-1% of people who managed to OVERCOME most of the symptoms. I think "Superhero" did the trick, hehe…
---
"Who Da Boss" by Voila! Genre: Dance/Pop Recorded in: MMI Studio Estepona, 2006
Audio clip: Adobe Flash Player (version 9 or above) is required to play this audio clip. Download the latest version here. You also need to have JavaScript enabled in your browser.
right-click here and 'save as' to download
Voila! was a short-lived "girl-band" in which Laura performed together with two very talented sisters, Veronica and Elena, the first only 11 years old and the latter 15, at the time. "Who Da Boss" was written in the style of Jackson-5, but since then all I've been hearing is that "hey, this sounds just like Jackson-5"! Okay, okay, I get it. It sounds like Jackson-5! … does it? 😉
You can also watch it:
---
Audio clip: Adobe Flash Player (version 9 or above) is required to play this audio clip. Download the latest version here. You also need to have JavaScript enabled in your browser.
right-click here and 'save as' to download
The lyrics for "Hanging by a Thread" were written by Laura, Jamie McLuckie and myself, and they were mostly personal to Jamie and true to real-life. Jamie wasn't a very experienced singer, but had a nice vocal tone. This is not the final version of that track, but it's the only one I got left.
---
"Why I Hate Boys" by Georgia Ellery (7 years old) Genre: Pop Recorded in: MMI Studio Estepona, 2002
Audio clip: Adobe Flash Player (version 9 or above) is required to play this audio clip. Download the latest version here. You also need to have JavaScript enabled in your browser.
right-click here and 'save as' to download
This was written especially for little Georgia Ellery. Laura quizzed her on what she'd like her song to be about – and we came up with "Why I Hate Boys." It's a hoot!
---
"My New Best Friend" by M'Presive (Three 12-year old girls) Genre: Pop Recorded in: MMI Studio Estepona, 2002
Audio clip: Adobe Flash Player (version 9 or above) is required to play this audio clip. Download the latest version here. You also need to have JavaScript enabled in your browser.
right-click here and 'save as' to download
"My New Best Friend" was, again, written specifically for this group of girls (called M'Pressive), based on their input into what they'd like to sing about. I wrote it with them present in the room.
---
"Take Me As I Am" by Georgia Napolitano (12-year old) Genre: Pop Recorded in: MMI Studio Estepona, 2002
Audio clip: Adobe Flash Player (version 9 or above) is required to play this audio clip. Download the latest version here. You also need to have JavaScript enabled in your browser.
right-click here and 'save as' to download
Georgia Napolitano was an exceptionally talented 12 year old. She sounds much older, even now. "Take Me As I Am" was a story she told us of how her brother played tricks on her in school – and we sort of spun this up a bit further and made it into a sort of a teenage love song.
---
Daniela James was a very reluctant music student. "Nobody's Fool" is a story Laura and I wrote about her attitude to life – and it fits her like a glove…! 
Audio clip: Adobe Flash Player (version 9 or above) is required to play this audio clip. Download the latest version here. You also need to have JavaScript enabled in your browser.
right-click here and 'save as' to download
---
"Thank God It's Friday" by Elena K (15-year old) Genre: Pop Recorded in: MMI Studio Estepona, 2002
Audio clip: Adobe Flash Player (version 9 or above) is required to play this audio clip. Download the latest version here. You also need to have JavaScript enabled in your browser.
right-click here and 'save as' to download
This was the first song I wrote for Elena K, who later became part of K-Sis and later still of Voila!. "Thank God It's Friday" was written while she was in the room. I essentially dragged the lyrics out of some stories she told me. Turned out pretty good, I think.
---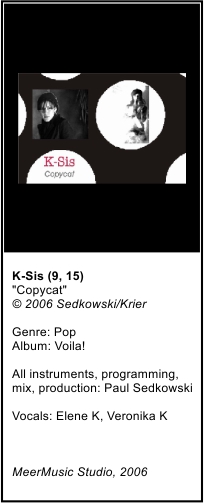 "Copycat" by K-Sis (11 & 15-year olds) Genre: Pop Recorded in: MMI Studio Estepona, 2002
Audio clip: Adobe Flash Player (version 9 or above) is required to play this audio clip. Download the latest version here. You also need to have JavaScript enabled in your browser.
right-click here and 'save as' to download
"Copycat" was originally written by Laura and me for two other girls, but we decided to give this song to Elena and Veronika, because it suits them really well.
---
Audio clip: Adobe Flash Player (version 9 or above) is required to play this audio clip. Download the latest version here. You also need to have JavaScript enabled in your browser.
right-click here and 'save as' to download
"Marbella Belles" was the title of a popular British TV reality show, and we happen to know these girls as they live next door. They asked us to write them a song to be included in the second series on ITV, but in the end the show's producers wanted to use someone else's music. The minute I heard that, I knew the second series would flop – and it did! hehe
---
Audio clip: Adobe Flash Player (version 9 or above) is required to play this audio clip. Download the latest version here. You also need to have JavaScript enabled in your browser.
right-click here and 'save as' to download
This is something we wrote for Jake (the same former-7-year-old, now 16), and Lexy – both of whom formed a band together with Laura and called it BabyPHAT. "We Should Be Together" is a joke on their relationship – they didn't feel about each other that way at all, but Laura and I always poked fun at them that they should hook up. And then I wrote the song to commemorate it! 😉
---
"Under Your Spell" is a song I wrote especially for Elena K, but later decided to give it to Lexy who did a much better job with it. The song was originally inspired by something I did many years before together with Robin Thicke."Under Your Spell"
Audio clip: Adobe Flash Player (version 9 or above) is required to play this audio clip. Download the latest version here. You also need to have JavaScript enabled in your browser.
right-click here and 'save as' to download
---
"Goodbye" was co-written with Dan Boland, and the lyrics and the whole track idea were mainly his.
Audio clip: Adobe Flash Player (version 9 or above) is required to play this audio clip. Download the latest version here. You also need to have JavaScript enabled in your browser.
right-click here and 'save as' to download
---
Since I started in music, I've written around 4,000 songs, jingles, promos and instrumentals for over 200 artists in something like 20 different styles. I've lost 95% of all my recordings in that famous flood. I still can't get over losing all my heavy rock and jazz fusion recordings. Ah well. It wasn't meant to be…
From 2006 onwards, our focus turned to Fame Games. But that's another story…!