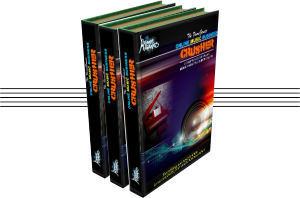 The Online Music Business Crusher
The PRACTICAL online music business blueprint which can allow you to successfully sustain yourself solely from your music and music-related activities. Knowing WHAT to do is half the success. In Online Music Business Crusher we show you HOW to do it.
Selected features of the Online Music Business Crusher
The Online Music Business Crusher (OMBC) consists of three major parts
Part 1: Introduction and Background – We discuss the broad topics of how the music business works and how it has changed as the result of the Internet revolution. We also provide lots of industry anecdotes and lessons from our own experience.  Over 50 pages of solid and illuminating content, pictures and videos. Available in online version in the members area as well as a separate PDF eBook.
Part 2: Focus on Your Music – Here you'll get clear actionable ideas on how to ensure that your music is not only properly developed and produced but also correctly targeted at your ideal market. Over 50 pages of content, special reports, pictures and videos. Available in online version in the members area as well as a separate PDF eBook.
Part 3: Achieving Full Independence With Your Music – Unlike all other courses we know, we provide you with step by step instructions not only for how to eventually succeed with your music but also on how to comfortably survive while you're getting there. This set of eBooks is over 500 long and contains over 20 hours of no-fluff videos.
Get your Online Music Business Crusher Membership HERE.
(or go back to the introductory video here)
Key chapters in Part 1, "Introduction":
How Is This Course Organized – About this course and it's three major parts.
Foreword – Background information for how this course was inspired.
Why I Created This Course – More about my "why" for creating this course, including some minor anecdotes and stories.
Indie or Record Deal? – Helping you decide what is better for you to strive for – an indie career or that elusive record deal.
Isn't It All About Having a Top Hit? – Evaluating your chances – do you have any in a hit-dominated world?
Is Music Still Selling? – What kind of a business can realistically be built by an indie musician?
What about A&R? – Do you need A&R as an indie?
Your Competition: It's a Level Playing Field. Sort of. – Should you worry about your (overwhelming) competition?
So, Once Again – Indie or Major? – By this point you should be able to answer this question much more definitively and with conviction.
Understanding Before Planning, Planning Before Acting – Or how to get your career off to a flying start.
So what do I mean by "work"? What do you have to do? – An overview of the kind of things you'll need to do.
Structuring Your Broad Business Plan – A conceptual overview of your blueprint for success.
The Broad Plan – Key points to keep in mind and meditate on.
If There Was Only ONE Thing You Had To Do… – So what do you think is the most important component of your business?
Building Your Audience – General tips on how best to build an audience.
Objections – Things people come up with in order not to succeed.
The Big Picture – A wrap up of the first part of this course.
Key chapters in Part 2, "Your Music":
Getting The Product Right, Or Is Your Music Good Enough? – Ensuring that your music finds an audience and thrives there.
A concise songwriting checklist – Here are some ideas and thought-tools for you to consider when writing your songs.
A concise checklist for the self-producing artist – And here are the things a good producer keeps in mind.
Session Players, Engineers, Coaches and Other Supporting Experts – Whether you're a one-man-band or a member of a real band, consider these suggestions.
Vocal Considerations – More often than not, vocal production is key to your success. Here's what to keep in mind.
Dirty Production Tricks – Sometimes, when all your efforts fail, there are still things you can do to make a great production.
The A&R Process – Possibly the most important aspect of your music business is A&R, at least as far as finding your market is concerned.
Audience Research and Feedback, An Aspect of A&R – Who exactly is your audience and how to discover it.
Your Image – As much as you may hate to admit it, your image is an integral part of your success as an artist.
Your Music vs Your Business – If you're an artist should that mean you can't also make a living from your art? Boloney!
Your Art And Your Incomes – Ideas for monetizing your fan base.
Turbo-Charging Your Music Sales – Tips and tricks for boosting the bottom line.
Fan and Audience List Building – Understanding the nature of your marketing list.
Building Fans Using Email – Some marketing tricks you will want to know about.
Building Fans Using Social Networks – Leveraging your web presence to your and your fans' advantage.
Building Fans Through Contests, Gigs and Song Submissions
Building Fans via Press Releases and Promotion Venues
Your Own Site As the Ultimate Fan-Building Machine – The sorts of things you or someone on your team will need to do every day.
Getting Fans From Your Local Market – Your music business starts at home.
Your Team and Your Operational Budget – People you need to have on your side and how to pay for them.
Key chapters in Part 3, "Your Business":
Setting up your site – Sub-chapters include "Building Your Web Business", "Setup", "Domain and Hosting", "WordPress setup", "Plugins and Features", "Integration", "Extended and Social Setup", "Keyword Research", "SEO and SEM Considerations", "Important Subscriptions", "Must-have Tools" and more.
Design and Graphics – Sub-chapters include a huge graphics and templates library as well as "Design Considerations", "Customizations and Tweaks", "Key Differential Factors" and more.
Content Creation – Sub-chapters include "Major and Minor Social Networks", "Music Networks", "Audience Engagement", "Written Content Development", "Video Content", "Integration", "Copywriting", "Blogging", "Interactivity", "Your Bio and EPK", "Reviews", "Interviews" and much more.
Promotion – Sub-chapters include "Promotion and Marketing", "Organic vs Paid Visits", "Calculation Considerations", "Best Networks", "Ad Creation Course", "Scaling Up", "Budgeting", "Autoresponders", "Product Selection and Development", "Multiple Income Sources", "Landing Pages and List Building", "Membership Sites", and much more.
Monetization – Sub-chapters include "Monetizing Your Music", "Your Music Merchandise", "Musical Income Diversification, Licensing, Services and More", "Supplementary Auto-Pilot Incomes", "Sales Funnel Creation", "Building Affiliates and Street Teams", "Supplementary Products and Giveways", and much more.
Managing Your Music Company – Sub-chapters include "Budgeting", "Incomes vs Costs", "Even More Income Streams", "Daily Monitoring", "Maintenance", "Outsourcing", "Site Management and Business Management", "Offline vs Online Presence", "Expert Costs", "Future Projections", "Tools and Resources" and more.
Additionally, you will find over 30 full video sub-courses on the various subjects above.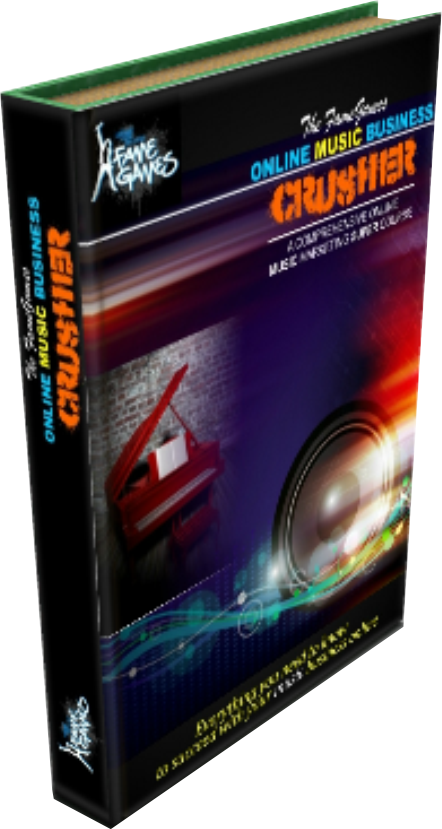 Thorough explanation of all the topics and issues you'll need to be familiar with in order to create your own online music business.
Access to live and regularly updated content.
This is your go-to online music AND marketing resource.
Personal support options.
Much more!